Asphalt & Concrete Removal Company in New Baltimore, MI
When you need concrete or asphalt removed from your property, call the experts at Douglas & Son Concrete Removal. Our family-owned and -operated concrete removal company proudly serves the needs of property owners throughout New Baltimore, MI. We demolish unwanted concrete and asphalt surfaces and structures, hauling away the rubble to leave you with a clean worksite. Call us today to schedule an on-site estimate and removal date.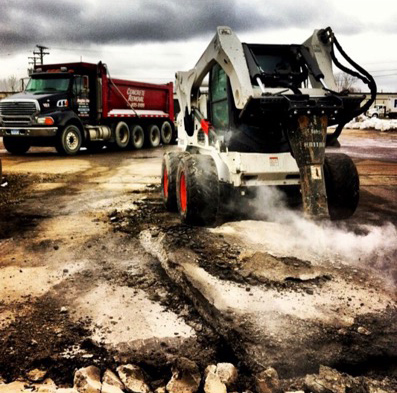 Safe and Efficient Concrete and Asphalt Removal Services
When poured and paved, asphalt and concrete are meant to stand strong for decades. But sometimes, things change. Your old concrete driveway might need to be completely replaced for a new one. Your asphalt parking lot might need to be removed to make way for your business' new addition. Whatever the case, when you're faced with removing these resilient surfaces, call Douglas & Son Concrete Removal. Our concrete removal company can make quick work of any job, leaving behind a clean worksite that's ready for whatever comes next.
---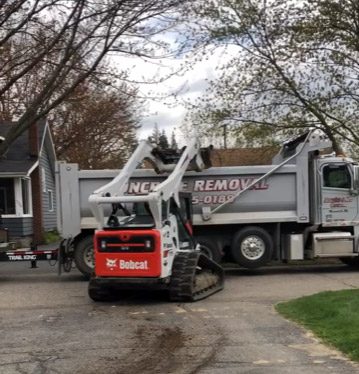 We're dependable & efficient, completing tear-out jobs quickly & cleanly.
Home and business owners throughout New Baltimore and Macomb County, MI have seen firsthand how quickly we work, and how adept we are at getting things done on-site. We can make entire concrete surfaces disappear in an afternoon, and we're the asphalt removal company to call when you need a no-mess site. We staff the crews and heavy equipment to work quickly, efficiently and thoroughly at-scale. Contact us to remove driveways, parking lots, access roads, slabs, parking pads, retaining walls, pathways and even in-ground gunite pools!
Asphalt | Concrete | Hauling | ExcavationOur work tearing our asphalt and concrete has also given us inroads as your hauling and excavation service. Look to us to haul debris away from any worksite, so there's nothing leftover to cause hazards. Our excavation capabilities are available in whatever capacity you might need them—from foundation excavation, to grading, to general earthmoving. We make it a point to deliver excellence on every jobsite—just tell us what you need and we'll make it happen. It won't take long for you to see why we're the concrete removal and excavation specialists New Baltimore, MI customers turn to, no matter the job.
We've been in the concrete demolition business for
more than 35 years.
Family Owned & Operated
As a family-owned and -operated asphalt removal company, we take tremendous pride in our work.
Residential & Commercial
Our concrete removal services extend to residential and commercial properties throughout New Baltimore.
Fully Licensed
We're licensed to operate heavy equipment and observe OSHA worksite safety rules.
Concrete and asphalt removal contractors serving customers in the following areas:
New Baltimore, MI | Anchorville, MI | New Haven, MI | Fair Haven, MI | Harrison Township, MI | Macomb, MI | Mount Clemens, MI | Casco, MI | Clinton Township, MI | Ray, MI | Algonac, MI | Huron County, MI | Macomb County, MI | Oakland County, MI | Sanilac County, MI | St. Clair County, MI | Wayne County, MI | and more!
We Make Concrete
Disappear
From simple slabs to entire parking lots, our excavation company makes quick work of unwanted concrete. We demolish, remove and haul away concrete and rubble to make way for your next development.